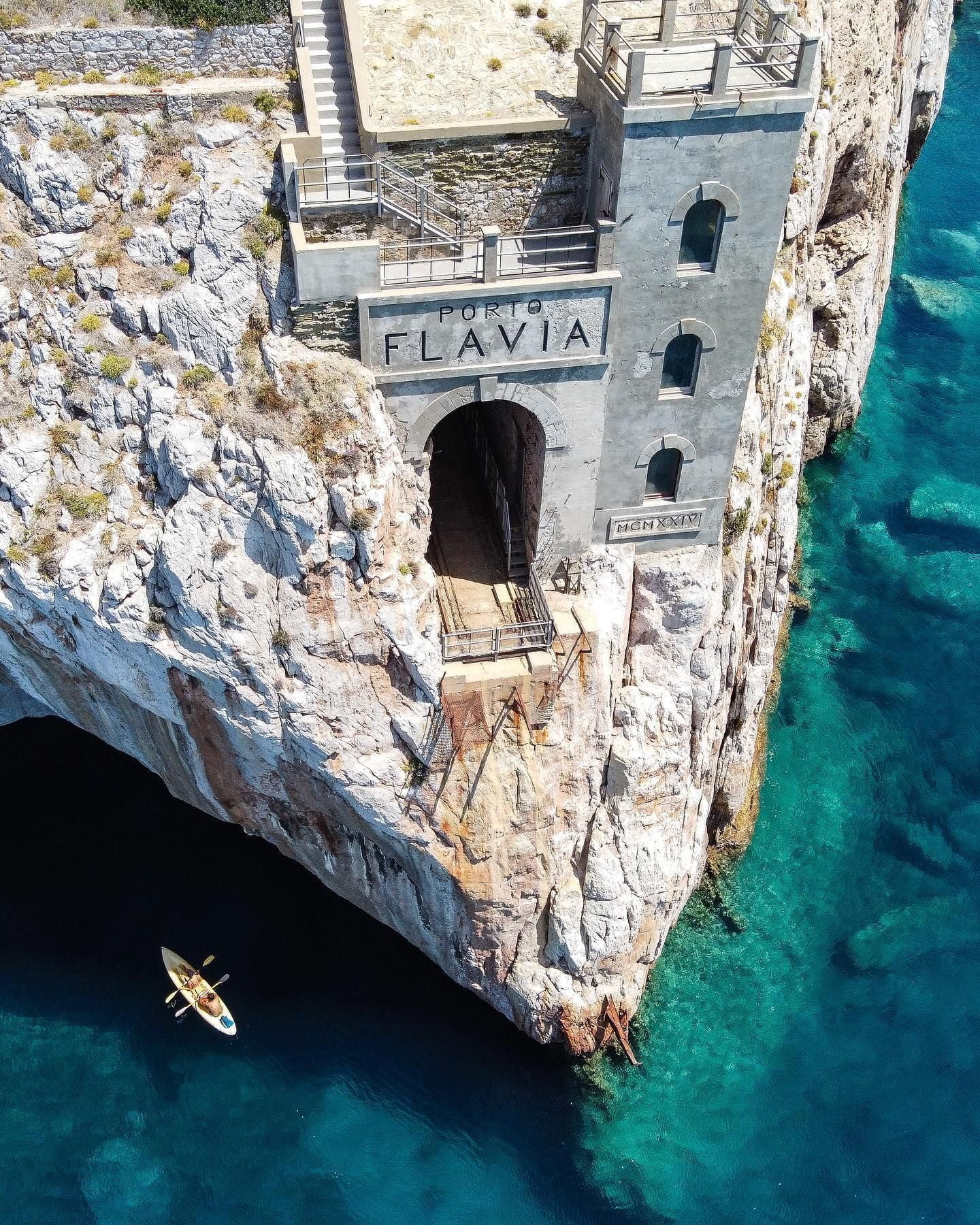 Porto Flavia was built right on a cliff directly facing the sea in 1924, in order to allow miners to load ore directly on cargo ships, cutting the times spent transporting and loading the material by a significant amount.
Before that, ore was loaded on small boats that arrived in the beaches near Masua from Carloforte, a small town in San Pietro Island. The sea in this part of Sardinia is often quite rough, so the journey back and forth often proved dangerous, and the process of fully loading a steamship with ore would at times take weeks – and as a result it was extremely costly.
It was Italian engineer Cesare Vecelli who, after carefully investigating the coast around Masua, decided to build a port directly into the cliff, connecting it to the mine via two tunnels, one above the other and each measuring around 610 meters (2000 feet), so that the extracted minerals could be loaded directly onto boats.
Construction of Porto Flavia started in 1923 and took less than two years. The tunnels were connected by nine vertical shafts which were also used to store ore. An electric train was installed in the upper tunnel to transport ore from the mine. This was then lowered to the storage and then unloaded onto a belt in the lower tunnel. The belt protruded from the tunnel at 15 meters (50 feet) above the water. Loading a cargo ship with this system would only be a matter of a few days – much less than it had been till then. And costs were cut by 70%.
The concrete tower, the arched doorway and windows were added to the construction to give the harbor a touch of beauty.
Vecelli named the port after his daughter, Flavia, who was born in 1924.
Porto Flavia was finally closed in the 1990s, following the decline of the mining industry in Sardinia which started in the 1960s. It's now managed by IGEA SpA, a public company that aims and restoring and preserving old mining plants, and it's part of the Parco Geominerario of Sardinia, which is striving to achieve UNESCO recognition.